Improving Workflows and Processes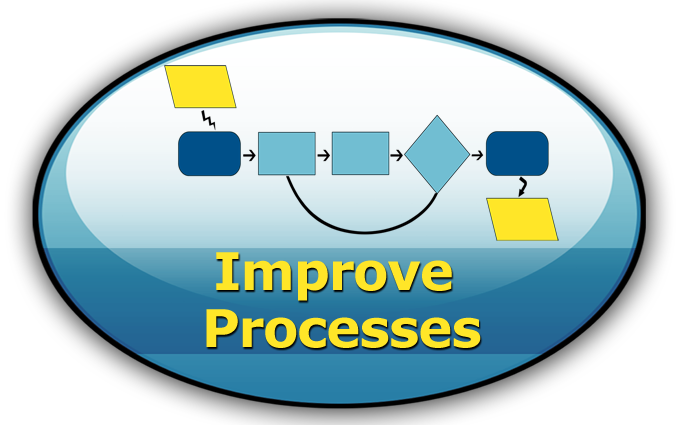 In today's economy, nonprofit organizations face many burning issues that are critical not only to your financial success but also your survival.
SUTTON's approach of using business process improvement and deep customer knowledge allows you to make decisions based on actual data to address and correct your critical issues.
Project: New Accreditation Process
Project: New product development process for healthcare certification body with over 30,000 certificants
Certification body had only one significant product and revenue stream and wanted to expand to develop more products. They choose SUTTON to create a new product development process as well as to guide them in assessing product ideas and serving as their new product development group.
SUTTON worked with the certification board, committee leadership, and management staff to establish a consistent development process based on best practices, including lean and agile methods, to be used on an ongoing basis.
The process included a workflow that identified different roles and checkpoints as well as incorporated standard templates and forms, allowing volunteers to follow the established steps and activities and focus on their subject expertise, rather than creating tools.
The NPD process supported evidence-based decisions by the commission leadership and facilitated bringing new volunteers on board by providing an orientation to the history and standards the commission had adopted. Process has been in place and used for over 4 years.
Project: Redesigned certification processes for Consortium for Professional Credentialing (CPC) (a Healthcare association management firm that served CRCC & CDMSC)
The application and renewal processes for client's certifications had lengthy cycle times and were time-intensive processes for both their constituents and internal processors. CPC wanted to streamline these processes to enhance the customer experience for applicants' (>2,500 / year) and certificants' (>35,000) as well to increase internal process efficiencies.
SUTTON facilitated a rapid process improvement initiative. Efforts included scoping, planning and facilitating current and future state mapping sessions, using key metrics to measure these processes, and creating and implementing a staged plan that prioritized high benefit improvements that could be easily implemented.
Improvements in processes and customer experience
Reduced application process cycle time by over 45%

Decreased applicant - processor handoffs by 66% - from 3 to 1

Improved applicant customer experience through reduced cycle time and streamlined submittal requirements

Reduced processing time, allowing the equivalent of 2 full-time employees to be shifted from process flow to more value added roles

Standardized work for application processing and supplied supporting tools

Application and renewal policies updated to support both rigor of certification and enhanced customer experience

Identified and prioritized requirements for application and renewal processes to support next phase of process improvement - technology selection and implementation

Guided CPC through a comparison of technologies to automate the application, renewal, and continuing education processes
Project: Documented non-instructional process requirements for city-wide school district information management system - Metropolitan Nashville Public Schools (MNPS)
MNPS wanted to automate its non-instructional processes and needed help improving the new processes while implementing new technology.
SUTTON led a team of school district staff and consultants through a comprehensive initiative to review and analyze all non-instructional work processes for the school system, including documenting the current way of working, analyzing issues and improvement needs, developing cases for action on recommended improvements to present to district management, integrating new and existing systems and technologies effectively. Using the process analysis knowledge, SUTTON worked with the technology team to help define technical and functional requirements for implementation of the Chancery Student Management System (SMS) software application and the enterprise resource planning system (ERP) JD Edwards. Managing major change to the organization was a key aspect and critical success factor as the district redefined its entire approach to educational support.
Within 6 months, SUTTON had helped the school system redesign and implement about 75% of its processes and had MNPS staff using the improved processes, as well as trained the team on how to improve their own processes.
Project: Improved non-instructional processes for city-wide special education district of Memphis Public Schools (MPS)
MPS wanted to automate its non-instructional processes for Special Education, including individual improvement plans for students. In conjunction with automating the processes, MPS needed help improving the processes to provide better service to the students and their families as well as address new regulatory requirements related to "No Child Left Behind".
SUTTON led a joint team of school district staff and consultants from planning through execution for a comprehensive process improvement initiative. The initiative included documenting the current work processes and facilitating redesign of Student Instructional and Behavioral Intervention processes for at risk and special education/exceptional students district-wide. The work encompassed the efforts of 9 overall initiatives, so they were aligned and integrated. The organizational needs identified in the process analysis were translated into technology needs and requirements to implement web-based software applications to manage student data and complete reporting.
Client had process improvements defined and documented within 6 months sufficiently to allow them to implement technology application tools, including InfoHandler® SpecEdT, InfoHandler BenchmarksT, Chancery SMST, a communications accountability system, and a student records management application.